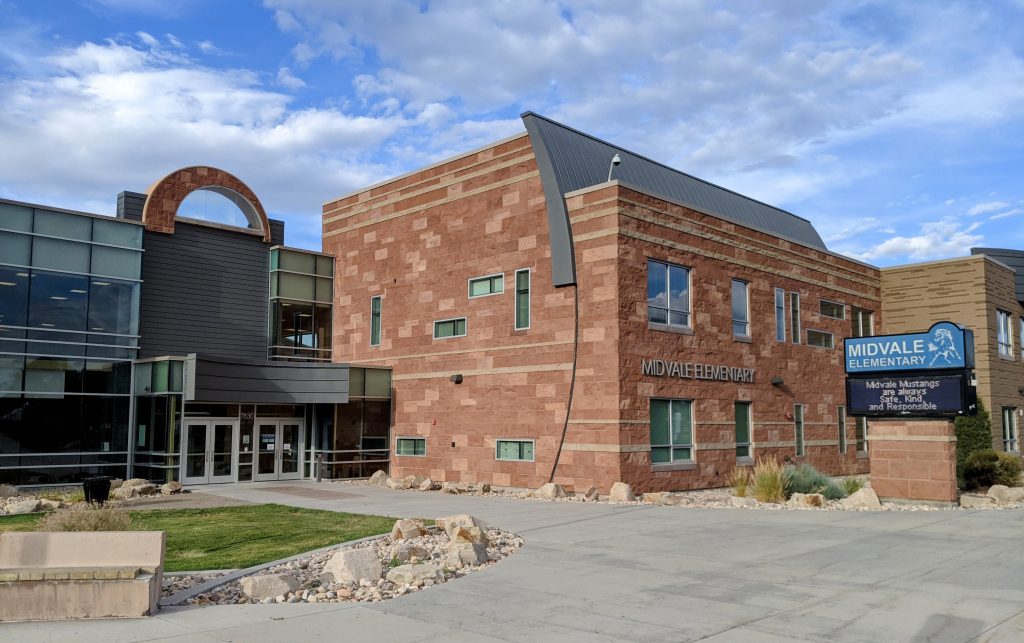 Midvale Elementary School is the first new building that was completed after the creation of the Canyons School District. Our beautiful school building features geographical themes that can be found in the state of Utah such and rivers, canyons, mountain peaks, and State & National Parks. We are home to roughly 750 students, and have 38 teachers and many crucial staff on our team. We employ a unique, two-teacher model in which students switch between math and English teachers at the middle of the day. We also have a strong Spanish Dual Immersion program at our school.
Midvale Elementary celebrated a year of unprecedented growth in student achievement in the 2018-19 school year. Our scores lifted us high enough to exit the school turnaround status we were on for the previous 5 years. Recently we were recognized as a Utah School of Excellence for 2020. We have made a great deal of improvement, and we know that we can do more. We are looking to the future and working to make our school the best that it can possibly be. Our focus on academics, social/emotional growth, and preparation for middle school has changed our school culture to one of learning, growth, and development for our teachers and students. Our Midvale families are critical partners in supporting students to achieve growth!
Thanks for your support in helping us become the best Mustangs we can be!
At Midvale, scholars experience social, emotional and academic successes that prepare them to be middle school ready.
Our goal for the 2020-21 school year is that 60% of Midvale students in each grade will have made typical or above typical growth in reading fluency and math computation as measured by Acadience benchmark assessments and progress monitoring.