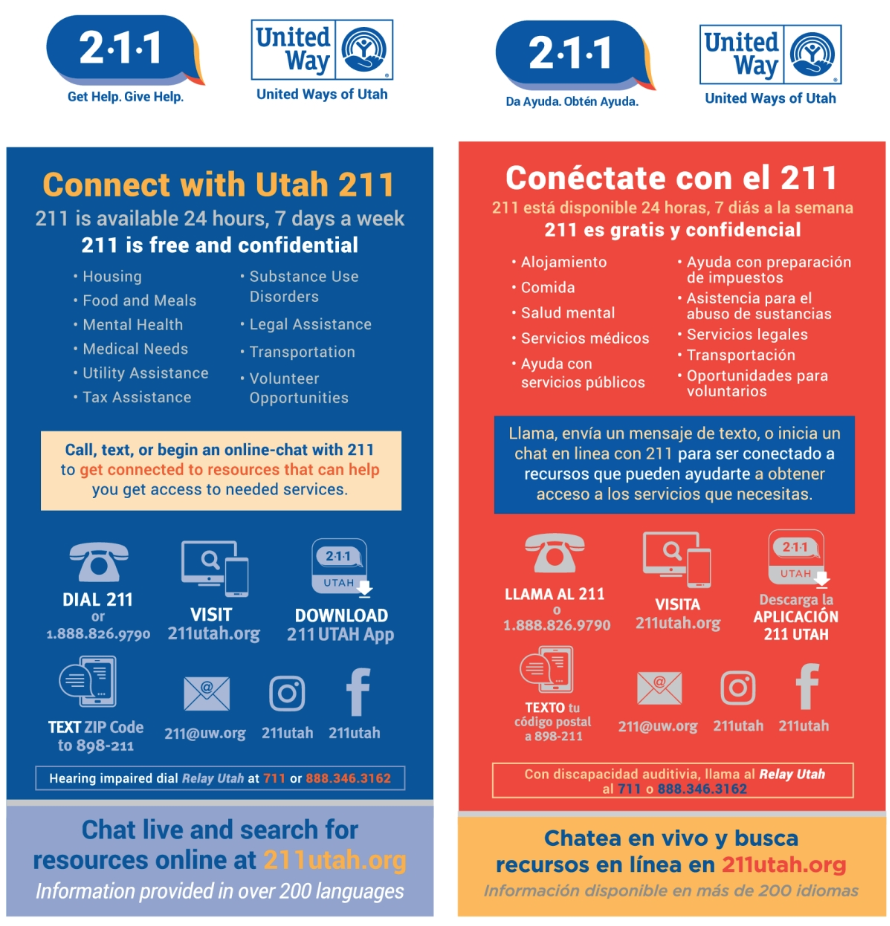 MIDVALE FAMILY RESOURCES QUICK LIST
Boys and Girls Club, 7631 Chapel St, Midvale, 801-256-9008. 
Canyons Family Center, located at Mount Jordan Middle School, 9351 S Mountaineer Lane (210 E), Sandy, 801-826-8190
Individual and family-based counseling, student-support groups and parent-education classes provided at no charge for Canyons School District families.


Community Building Community, 49 W Center St, Midvale, 801-574-6172 

Medical and Dental services for adults and children. Serves low income families, uninsured & under-insured.

Copperview Recreation Center, 8446 S Harrison St, Midvale, 385-468-1515 

Sports and recreation programs, scholarships available.

Crisis Support – If you need someone to talk to…
SAFE UT – Call 833-372-3388 or Chat- Crisis Line for Students
Mobile Crisis Outreach Team MCOT – Crisis Line 801-587-3000
211.org or Dial 211 for info @ health & human services, food, and more
Domestic Violence and Sexual Assault Hotline 800-467-7273
National Suicide Prevention Lifeline – 800-273-8255

Family Learning Center, Midvale Elementary School, 801-826-7462
Free English and Computer classes for adults. Childcare provided.

Heating and Utility Assistance through HEAT and HELP, 801-521-6107/ 844-214-3090
Applications taken between November 1 – April 30.

Hope Clinic, 65 Twin Peaks St, Midvale, 801-568-6700.
Maliheh Free Clinic, 94 E 3300 S, Millcreek, 801-266-3700.
Mexican Consulate Contact Information – 801-521-8502 
https://consulmex.sre.gob.mx/saltlakecity/
Mid-Valley Health Clinic/ Utah Partners for Health, 8446 S Harrison St, Midvale—801-417-0131 

Provides primary health care services regardless of ability to pay, co-pay or sliding based on income. Accepts Medicaid, CHIP, Medicare & private insurance. Mental health, dental, and vision services also available.

Mobile Food Pantry at Midvale Elementary School, provided monthly
Ruth Vine Tyler Library, 8041 S. Wood St., 801-944-4636
Apply for free library card—at branch or online 
 

Kids Café: Mondays through Saturdays, times have changed – please call for details. 
Brainfuse— free online tutoring 7 days a week 2-11pm 


University of Utah Greenwood Health Center,  7495 S State St, Midvale, 801-213-9400